Come share the holiday spirit with your colleagues and their families at the
KMS Santa Brunch
Sunday, November 26, 2023
Co-Sponsored By Kelowna Medical Society, Central Okanagan Divisions of Family Practice & KGH Physicians Society
---
Download the Santa Brunch Event Poster
---
Event Information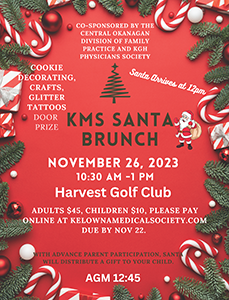 Held at:
The Harvest Golf Club
2725 K. L. O. Rd
Kelowna, BC
V1W 4S1
From: 10:30 am – 1:00 pm
KMS AGM at 12:45 pm
Cookie Decorating, Crafts, Glitter Tattoos and a Door Prize!
Santa arrives at 12 pm!
(With advance parent participation, Santa will distribute a gift to your child)
---
Reservation and Payment Information:
Please pay online to reserve your spot.
No tickets available at the door.
This event sells out…please plan ahead!!
Fees:
Adults: $45
Residents/Students: $22.50
Kids (0-18): $10
Pay Online with PayPal/Credit Card:
For multiple tickets, select one ticket-type at a time and when at PayPal, click the "Continue Shopping" button to add the additional ticket-types.
After you've made your payment, please complete the form below so we have the ages of the children attending: